Through generous community support, more than $2.4 million was raised for Children's Hospital Colorado, which will help to transform the lives of the children and families we serve. Thank you for your generosity and continued support of Children's Colorado! We hope to see you at next year's Children's Gala on September 29, 2018.
Check out the Letters from the Heart video that debuted at the Gala to see the journey our ambassador families have been on together.
Event photos and Step & Repeat photos are available for you to view and purchase. If you forgot to pick up your auction item or event photo, please contact Leslie Boersma.
As a special offer, our auction partner Cuvée will donate 10% of any trip booked by Children's Gala guests back to Children's Colorado!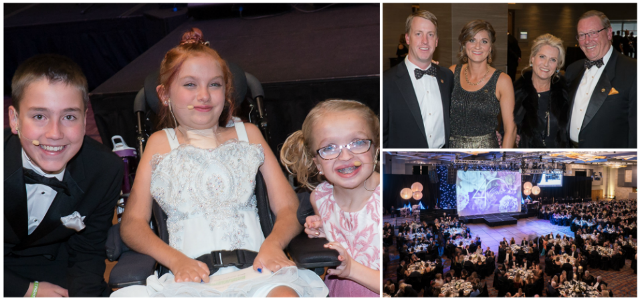 Event Info
Download the 2017 Children's Gala Concierge Guide for parking details, live auction preview and more.
Stay connected
Follow the event on the Foundation Facebook, Twitter and Instagram, and share your photos with us on social media using #ChildrensGala2017.
Sponsor
The 2017 Children's Gala is SOLD OUT. Please contact Andrea Caruso at 720-777-1783 to be added to the waitlist.
Learn more about Children's Gala sponsorship opportunities.
2017 Sponsors
Imagine Sponsors
Crothall Healthcare
Cathey and Richard Finlon
The Freyer Family
Land Title Guarantee Company
The MDC/Richmond American Homes Foundation
Sage Hospitality
The Solich Fund
Cille and Ron Williams

Platinum Sponsors
The Anschutz Foundation
EKS&H
Karen and Charles Farver
Great-West Financial and Empower Retirement
Ann and Kevin Reidy & Marcy and Bruce Benson
S.O. Asher Consultants Ltd.
Anna and John J. Sie Foundation
Therese Ivancovich and Greg Sissel
Wagner Equipment Co.

Gold Sponsors
Alpine Bank
Anonymous Donor
Daniel Beekhuizen
Buckeye Ranch
Carson Foundation
Colorado Access
Comcast
Jan and Miles Cortez
The DaVita Village
Kathy and John Fenley
FirstBank
Genesee Mountain Foundation
Griffis Residential
Jennifer Hagman MD and Don Hazell
Tamara and Tom Jorden
King Soopers
Lockton Companies
Amy Millisor Family Foundation
University of Colorado school of Medicine
Urban Frontier
Vollbracht

Silver Sponsors
ANB Bank
Ed and Roxanne Fie Anderson in honor of The Breathing Institute
Anna and David Asarch/Meagan and Jeter Thomas
Balloon Boy's Table
Bank of America Merrill Lynch
Jennifer and Byron Barksdale
Bella Bridesmaid
BiggerPockets, Inc.
Jennifer and Jordan Bonicelli representing Naos Design Group
Bradford, LTD
The Bukary Family
Cator Ruma & Associates/Martin Martin
Children's Hospital Colorado – Center for Cancer and Blood Disorders
Children's Hospital Colorado - Congenital Heart Surgery
Children's Hospital Colorado – Section of Pediatric Anesthesiology
Cigna
Colorado Rockies Baseball Club
Covalus
Denver Broncos
Division of Pediatric Surgery
East West Partners
Carleigh and Reid Elkus/Mary Smith and Patrick Brown
Susan and Mark Erickson
Brooke and Jason French/Molly and Sumeet Garg
Nancy and Sam Gary
GE Johnson Construction Company
GH Phipps Construction Company
The Gene Team
Griffis/Blessing, Inc.
GTRI, a CISCO Gold Partner
Dr. Michael and Wendy Handler
Hogan Lovells
HomeAdvisor
Ireland Family
Tomme and David Kaplan Family
The Lepard Family
Dr. and Mrs. Kenneth Liechty & Family
Emily and Brendon Maloney Family Fund
McCarthy Building Companies
Lori and Peter McDermott/Jennifer and Daniel Rohan
Northstar Investment Advisors, LLC
Sachi and Jeff Osatinski
Pando Holdings
Pediatric Rehabilitation Medicine
RJ Clark Family Foundation
SapientRazorfish
Saunders/TreanorHL
Savills Studley
Tanner Seebaum Foundation
Shea Properties
Solace Home Healthcare
Sparks Financial, Northwestern Mutual
Spectranetics
Spencer Fane, LLP and Ellen Stewart and Donald Vancil
Janie and Rick Stoddard
The Beautiful and Most Fun Crew!
Thrive Home Builders
UCHealth
UnitedHealthcare
UnitedHealthcare Retiree Solutions
The Department of Pediatrics, University of Colorado School of Medicine
Laura and Doug Wright
Xcel Energy
ZGF Architects LLP

Live Auction Sponsors
Cuvée
Denver Broncos

Beverage Sponsor
RNDC