Join us for the 40th annual Children's Gala! Last year, community partners, patient families and caregivers came together for an elegant evening supporting Children's Hospital Colorado, raising more than $1.9 million for patients!
We are beyond excited to announce that Big & Rich are headlining this year's Children's Gala!
Big & Rich exploded in popularity in 2003 as true country music game changers. With their triple-platinum album Horse of a Different Color in 2004 they were able to tap into the best strands of a wide spectrum of popular music, producing four straight Top 40 country hits.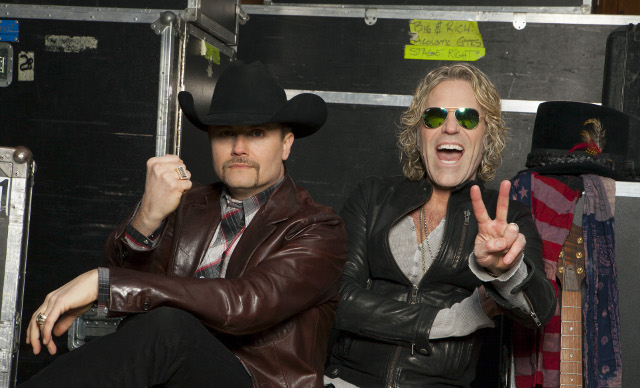 Schedule
5:30 p.m. Cocktails and Silent Auction
7:45 p.m. Welcome and Dinner
8:45 p.m. Program and Live Auction
9:30 p.m. Big & Rich Perform
11 p.m. DJ Ripm to close the night
Sponsor
Children's Gala is SOLD OUT. Please contact Andrea Caruso at 720-777-1783 to be added to the waitlist.
Learn more about Children's Gala sponsorship opportunities.
2017 Sponsors
Imagine Sponsors
Crothall Healthcare
Cathey and Richard Finlon
The Freyer Family
Land Title Guarantee Company
The MDC/Richmond American Homes Foundation
Sage Hospitality
The Solich Fund
Cille and Ron Williams

Platinum Sponsors
The Anschutz Foundation
EKS&H
Karen and Charles Farver
Great-West Financial and Empower Retirement
S.O. Asher Consultants Ltd.
Anna and John J. Sie Foundation
Therese Ivancovich and Greg Sissel

Gold Sponsors
Daniel Beekhuizen
Buckeye Ranch
Carson Foundation
Colorado Access
Comcast
The DaVita Village
Kathy and John Fenley
FirstBank
Griffis Residential
Jennifer Hagman MD and Don Hazell
Tamara and Tom Jorden
Lockton Companies
University of Colorado school of Medicine

Silver Sponsors
Anna and David Asarch/Meagan and Jeter Thomas
Bank of America Merrill Lynch
Jennifer and Byron Barksdale
BiggerPockets, Inc.
Bradford, LTD
Cigna
Covalus
Division of Pediatric Surgery
Brooke and Jason French/Molly and Sumeet Garg
Nancy and Sam Gary
GE Johnson Construction Company
The Gene Team
Hogan Lovells
Elizabeth and Michael Horne
Tomme and David Kaplan and Family
The Lepard Family
Dr. and Mrs. Kenneth Liechty & Family
Northstar Investment Advisors, LLC
Sachi and Jeff Osatinski
Pando Holdings
Pediatric Rehabilitation Medicine
Razorfish
Saunders/TreanorHL
Tanner Seebaum Foundation
Shea Properties
Spectranetics
Thrive Home Builders
UCHealth
UnitedHealthcare
The Department of Pediatrics, University of Colorado School of Medicine

Live auction partners